Why Power Electronics leads the world in the solar inverter market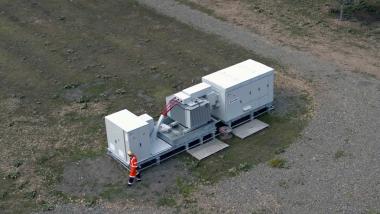 4 Key Technical Advantages of Power Electronics' Solar Inverters
Solar inverters are one of the most critical elements of any solar power system. They're essential to converting the solar energy generated so that it's suitable for the electricity grid it's supplying.  
However, not all inverters are created equal and, as climate change action and conscious consumerism continue to gain traction globally, it's now more important than ever to understand the advantages and disadvantages of the inverters available. You need to have confidence in the inverters you're implementing so you can be confident in the power you're selling back to the grid.  
Here are the 4 key technical advantages of Power Electronics' solar inverters.
Types of solar inverters
At a high level, solar inverters can be broken down into two categories, string and central. String inverters are lower power inverters — they work by connecting many small inverters together to achieve the required power rating. A central inverter, on the other hand, is a higher power inverter, designed to have a greater number of solar panels connected to it.
Both come with their advantages and disadvantages. String inverters are advantageous because they have built-in contingency so that if one inverter fails, the remaining will continue to run. Because of their lower power rating, they also operate at lower levels of solar radiation, meaning that your solar farm can generate more power from sunup to sundown. However, despite these economic benefits string inverters require a greater capital expense due to the greater number required— making them costly to implement and maintain at scale.
Conversely, central inverters have been designed for larger projects and offer a cost-effective solution to managing large solar farms.
What to consider when purchasing a solar inverter
When it comes to purchasing a solar inverter there are plenty of elements to consider beyond the size and scale of your project. In our previous blog, we outlined the 10 most important considerations for choosing an inverter for a utility-scale solar farm.
To sum it up, you should look for manufacturers and suppliers that care about what they are selling you, are passionate about the quality and innovation and above all else, the consulting service they provide. When it comes to finding a top-quality inverter, it takes a lot more than a scalable solution to deliver optimal results. Here are 4 things every top-quality inverter should offer:  
1. High-quality construction technique and materials
The manufacturing of a solar inverter, from the construction method to the quality of materials used will play a huge role in the maintenance and longevity of your inverter. When considering which inverter is best suited for your project, look beyond its maximum load capacity and consider how it has been made.   
2. Grid and solar farm protection
You don't want anything from your solar farm negatively affecting the grid, and likewise, you don't want anything on the grid negatively affecting your solar farm. Ensuring your inverter operates with the latest protective software and hardware is paramount to ensuring your inverter acts as it should and can behave appropriately if it or the grid experiences a fault. A top-quality inverter should include both software and hardware protections such as anti-islanding and short-circuit protection to avoid such issues.
3. Technological innovation
A modern, innovative inverter should provide all the key features needed to maximise your solar farm's return on investment. As an example, a top-quality inverter should be able to adjust output settings to maximise energy production—even on cloudy days.
4. Seek local service and support
Modelling is a huge component when it comes to establishing any solar farm project. You'll need to model the grid and your farm to make sure everything works as it should. Although a specialist engineering company is typically engaged for this, they can only work with the information supplied to them. No one knows an inverter better than its suppliers so consider partnering with a local supplier who can offer the pre- and post-service and engineering support you'll need for your project. With the pandemic here to stay, selecting a provider that's local is extremely beneficial. Check out how New Zealand's first grid-connected solar farm benefited from such local support.   
Why Power Electronics leads the global solar inverter market
It's a bold statement, but we're confident in our centralised solar inverter packages and think you should be too. At Power Electronics, we offer one central inverter series that houses 15 different models. These range in size from 1955kva to 4390kva.
Our central inverter is not like others on the market. In a nutshell, through our power module technology, you'll gain all the advantages of a string inverter in a scalable central inverter package. This means you will not only reap the initial economic benefits of a central inverter but the ongoing revenue benefits of a string inverter.
The Power Electronics central inverter key technical advantages are:
1. Advanced power module technology
Our power module technology provides the advantages of a string inverter in a centralised package, allowing you to maximise your solar farm's performance at minimal cost. The power module system works in the same way as a series of string inverters would — if one goes out the rest will remain operational. This not only allows your solar farm to remain operational despite fault issues but also creates greater opportunities to operate at lower levels of solar radiation.
2. Superior skid-mounted design
Our skid-mounted design is significantly easier to assemble than large scale string inverters for two reasons. First, it's one inverter. Second, the form factor of our inverter and power station comes pre-assembled and can be lifted with a crane and placed onto your foundations. Our inverter is weatherproof as it stands, with no need for any extra coverings or enclosures. Be it rain, hail, snow or sun, we can handle this.
3. Easy to manage sustainability factors
New Zealand law requires the control and management of hazardous substances. The step-up transformer associated with solar generation systems need oil to run, as a result, solar farms need to have a contingency plan in place to avoid any environmentally hazardous oils spilling into the land.
Our inverter and MV station design has two unique sustainability factors our competitors often don't. First, we have safety bunding designed into all our MV stations. These are designed proportionately to catch all oil spills from the step-up transformer. This also means you won't have to spend additional manpower setting up your own bunding. Second, we don't use any hazardous cooling agents as part of a liquid cooled inverter design; our inverters are air-cooled. This means you'll have fewer environmental management factors such as pipes and pumps to consider in the operations of your solar farm.
4. Future Proofing
The future requirement to add battery storage to the network is almost inevitable. Our inverters have the ability to connect both PV panels and battery energy storage (BES) at the same time, effectively turning the unit into a hybrid inverter. This saves the customer having to purchase additional specialised BES inverters or experience added complexities and costs with additional AC grid connections. A simple conversation at the start of the project future proofs the customer from the very beginning.
Why Power Electronics?
At the heart of what we do is innovation. We pride ourselves on our ability to deliver the latest technology, materials and developments at pace. Aside from our central inverters' unique technical advantages, we offer a level of local New Zealand engineering and service support that's difficult to come by in this climate. But above all, we're experienced and are currently the only supplier to successfully install a central grid inverter in New Zealand.
Not all inverters are created equal. As climate change action and conscious consumerism continue to gain traction globally, now is the time to action a sustainable solution within your solar farm. If you're interested in learning more about the key advantages of our central inverter solutions, please head to our product page or get in touch.