Outdoor Medium Voltage Variable Speed Drive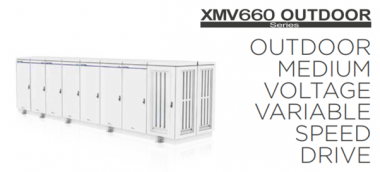 Power Electronics has supplied an 11,000 Volt, 1.0 Megawatt XMV660 Variable Speed Drive to a New Zealand customer in late 2019.  This unit is the second XMV660 installed in New Zealand – the first was supplied to Golden Bay Cement and was profiled in an earlier edition Power News.
Details of the customer and project are presently under wraps - but the project presented some challenges;
The application is arduous and extremely heavy duty
The site location and nature of the process presented environmental challenges
The customer elected to purchase an Outdoor XMV660 Variable Speed Drive for the project.
The concept is unique in that the XMV660 comes built up and fully load tested from the factory and is craned from a 40 foot open-top shipping container on to a concrete slab at the site. There is no need for a purpose built structures to provide a clean switch room environment  with air-conditioning etc.
The outdoor inverter is designed to handle temperatures sub-zero, to +50 Degrees Celsius and is suitable for the harshest of environments – ranging from desert sand storms to snow and blizzard conditions.
At the heart of the design is the innovative filter-less "cyclone drive" cooling system that delivers a constant stream of clean air to the XMV660. At the air intake, the labyrinth sifts the larger dust particles from the air stream  enabling the  cyclone drive  to eject the remaining contaminants, ensuring a constant flow of clean  into the electronics chamber and transformer cubicle without the need for cumbersome and maintenance intensive air filters.
The XMV660 MV drive goes one step further in achieving high performance by implementing proven low voltage technology within a rugged, modular, multi-level configuration. The multistep quasi-sinusoidal output voltage produced by the cascaded H-bridge power modules is low in dV/dt and supplies sinusoidal current to the motor. The multi-pulse phase shift transformer at the input minimises harmonic current drawn from the grid ensuring compliance to international THD standards.
The XMV660 Outdoor VSD at a glance;
RUGGED DESIGN: NEMA3R | IP55–OUTDOOR RATED STAINLESS STEEL     ENCLOSURE WITH MINERAL ISOLATION
MULTI-LEVEL, PULSE-WIDTH MODULATION WITH PHASE SHIFT       TRANSFORMER
HIGH EFFICIENCY AND POWER FACTOR AT PARTIAL LOADS
LOW HARMONICS - IEEE 519 COMPLIANCE
50°C OPERATION
C5M EXTERIOR COATING
NON-STOP INNOVATIVE COOLING – SMART AND RELIABLE AIR FILTERING THAT WITHSTANDS EXTREME DESERT CONDITIONS
LOW DV/DT - NO MOTOR DERATING OR MOTOR CABLE LENGTH   RESTRICTION
OUTPUT VOLTAGE BOOST TRANSFORMER TAP ADJUSTMENT
REDUNDANCY
Get in touch now to find out more.