Variable Speed Drives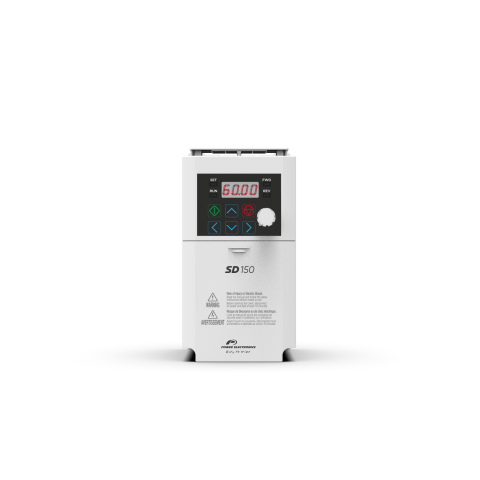 SD150 SERIES VSD
A compact and competitively priced AC drive for low power applications powered from a single phase supply. The SD150 comes with a front mounted potentiometer making it perfect for easy process speed adjustments. Available from 0.37kW to 2.2kW, 230VAC single phase input (230VAC three phase output)
Find out more »
---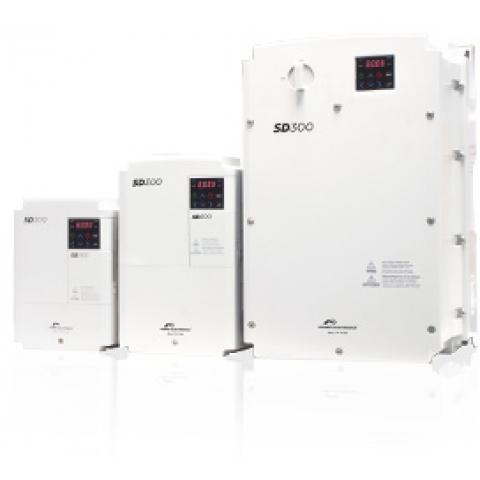 SD300 SERIES VSD
The SD300 is a high performance general purpose AC drive that excels in demanding heavy-duty applications that require high starting torque and precise control. Available from 0.37kW to 3.7kW, 230VAC single phase input, and 0.37kW to 30kW, 400VAC three phase. IP20 and IP66 variants.
Find out more »
---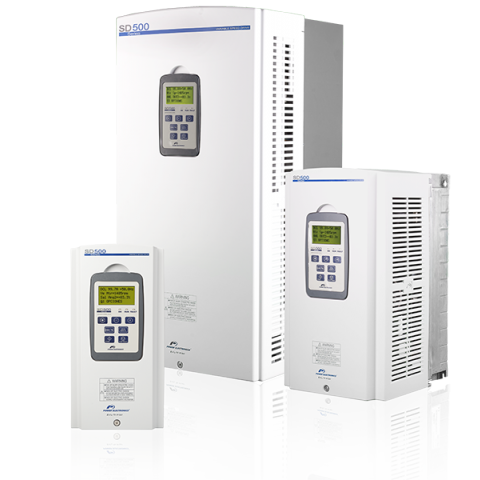 SD500 SERIES VSD
With a four line 64 character display, this highly flexible mid-range drive can tackle nearly any application.
Offering more flexibility than ever, the SD500 has been designed to fulfil most motor drive applications in all types of industry. With two ratings; heavy duty and normal duty, the "one drive for all applications" philosophy ensures exceptional performance in simple or complex applications. Inbuilt RFI filters and harmonic filters across the entire power range ensure minimal impact on the surrounding environment.
Complete with V/Hz, sensorless vector and closed loop vector ranging from 0.75kW to 90kW 400V three phase.
Find out more »
---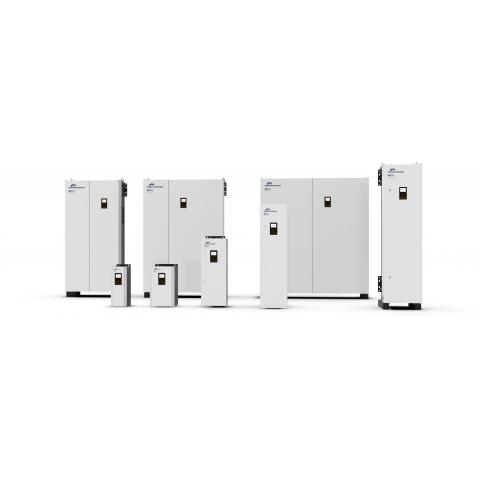 SD750 SERIES VSD
SD750 series provides the core elements of our range. The entire range addresses such common requirements as low dV/dt, smart mechanical design with greater power density, highly advanced motor-control algorithms and a removable memory unit for easy and advanced maintenance. With its new functionalities, SD750 series helps you to monitor, analyse and monitor your energy-saving industrial processes, while contributing to digital transformation.
The graphical display provides ample information with a plain English menu structure. Our IP20 and IP54-grade mechanical configurations cover all industrial applications, making this range our most extensive and flexible, complete with compact design for easy installation, commissioning and maintenance.
Available from 2.2kW to 2200kW, 380 – 480V, 525 – 690V.
The SD750 is fully certified Electromagnetic Compliant with unscreened motor cables.
Find out more »
---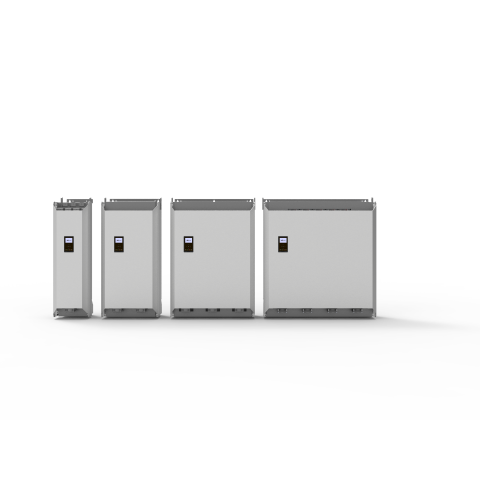 SD750K SERIES VSD
SD750 KOMPAKT SERIES, maximum performance in a minimum space. When space saving is a must, the SD750 Kompakt series with a power density up to 800kW/m3 is the most suitable solution. The drive keeps the advanced family features in a size reduced by 2.5 times that of the standard SD750 model. It is delivered in two parts; the drive unit and the input chokes.

Available from 110kW to 1750KW in voltage ranges 380 -480V, 525V, 600 – 690V.
Find out more »
---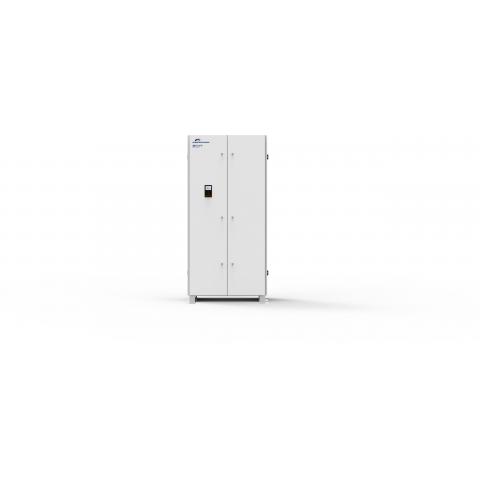 SD750FR SERIES VSD
SD750FR series moves one step ahead keeping the unique family characteristics. Based on the latest active front end technology, it is able to reduce the THDi< 5%, adjust the cosine phi and keep it constant at any load condition, and keep the motor voltage constant even when large input voltage drops occur. SD750FR provides the best regeneration features. Save money, reduce your energy bills and increase performance features at the same time. The active front end technology substitutes multi-pulse drives and passive filters. 
Available in 380V - 400V, 690kW, 110kW – 2100kW.
Find out more »
---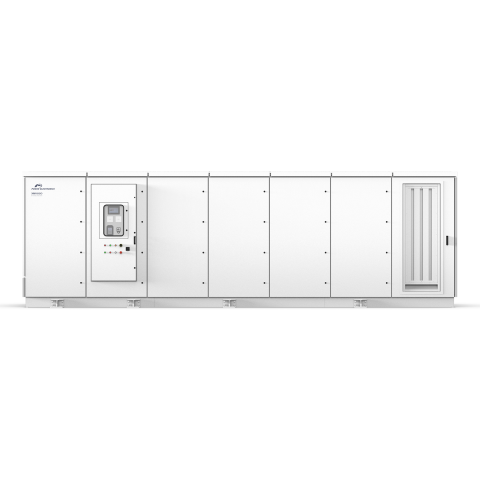 XMV660 SERIES MV VSD
The XMV660 Medium voltage variable speed drive goes one step further in achieving high performance by using proven low voltage technology within a rugged, modular, multi-level configuration. It is designed under the strictest safety regulations and complies with the most demanding industrial requirements. It offers the best power quality, maximum motor care, uncompromising safety and reliability across the full range.
Available in both indoor and outdoor variants 2.3kV to 13.8kV, 150kW – 5600kW.
Find out more »
---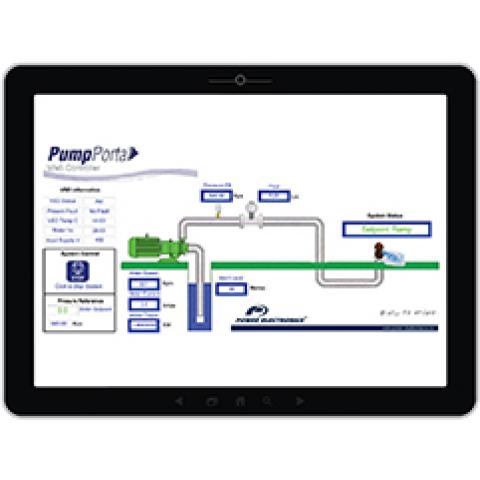 PUMP PORTAL WEB CONTROLLER
Wouldn't it be great if you could monitor and control your pumping system on any computer, anywhere in the world at any time, or perhaps your smart phone anywhere at any time? Well now you can. Our PumpPortal web controller provides comprehensive monitoring and control for any of our pump control systems. There is no need for any special software to be installed on your computer or smart phone – just an internet connection. It's simple, secure and safe to use, and what's more it provides the user with real time monitoring and control of their pump system.
Find out more »
---
We're here to help
Let us know your requirements and we
can quickly assess what's right for you.
Talk to us today