Power Electronics secures order for NZ's first grid-connected solar farm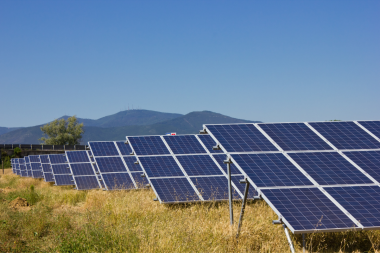 With New Zealand's highest number of sunshine hours, Marlborough seems like the most logical place for New Zealand's first grid-connected utility scale photovoltaic solar project. Renewable energy specialists, Kea Energy Ltd, has completed the construction of a 1.85MW utility scale solar farm located in the Wairau Valley, Marlborough. Kea Energy selected the Power Electronics HEMK series of solar inverter platform for the project.
After two years of research, design, and consenting, construction commenced in 2020 with final commissioning and grid connection permission granted in January 2021.
The project used over 5000 individual solar panels and covers 10 acres of land. The panels are installed on a single axis tracker mounting system. This ensures optimum efficiency of the panel but also prevents shadowing of panels allowing for a higher density of panel installation per square meter. There is also an added advantage of the panels being bifacial giving the benefit of reflection off the ground.
It is estimated that there is approximately 118MW of PV generated electricity connected to the grid in New Zealand but the majority of this is low power domestic and commercial systems. The 1.85MW system installed by Kea Energy is a first in New Zealand for several reasons, namely:
It connects directly to the 11kV Marlborough Lines Ltd medium voltage network
The system utilizes centralized inverter technology which significantly reduces the installation costs
It can introduce leading or lagging reactive power (VAR) to assist with network voltage control at a medium voltage level if required. Not only during the daytime but it can assist with voltage stability during the night
With an install base of thousands of units globally the HEMK solar inverter platform is a well proven platform. The modular design of the HEMK series allows customers to build solar inverters to suit their exact specification. In this case Kea Energy have opted for a 2.125MVA solar inverter, complete with low to medium voltage transformer, and medium voltage switchgear, all on a skid mounted platform. The HEMK can operate independently as a lone inverter, with several models ranging from 2.125MVA to 3.8MVA, or with the introduction of a Power Plant Controller (PPC) can operate with other units of HEMK for higher power applications. Connection at network level can be achieved at 11kV, 22kV, or 33kV. Interconnection to the network company SCADA system is achieved via ethernet directly to the HEMK or PPC.
"The Power Electronics HEMK solar inverter design is very innovative" states Kea Energy managing director, Campbell McMath. "It combines the benefits of a centralized inverter, particularly with regards to the efficiencies of installation cost, and with six field replaceable inverter modules the benefits of a string inverter as well".
To allow maximum flexibility the HEMK series comes "Bus Plus Ready" meaning that it can accept the connection of batteries via our Freemaq DC/DC converter providing a solar-plus-storage system. The HEMK series can also be easily integrated with the Power Electronics NB Electric Vehicle charger and Battery Energy Storage to provide a low consumption centralized EV charging system.
The unique skid mounting arrangement of the HEMK series makes for easy installation on either piles or a suitably constructed foundation. Because of its skid mounting design, it can also be easily relocated should the situation require – like the end of a land lease or re-arrangement of the solar array.
Despite the fact this project includes the latest technology to achieve generation there is still an element of "Kiwiana" in the design. Sheep will be used to graze the grass under the solar panels.
The HEMK inverter and MV skid installed at the Kea Energy site
Get in touch now for more information.