One of New Zealand's largest EDBs Finds Success with Power Electronics Static Synchronous Compensator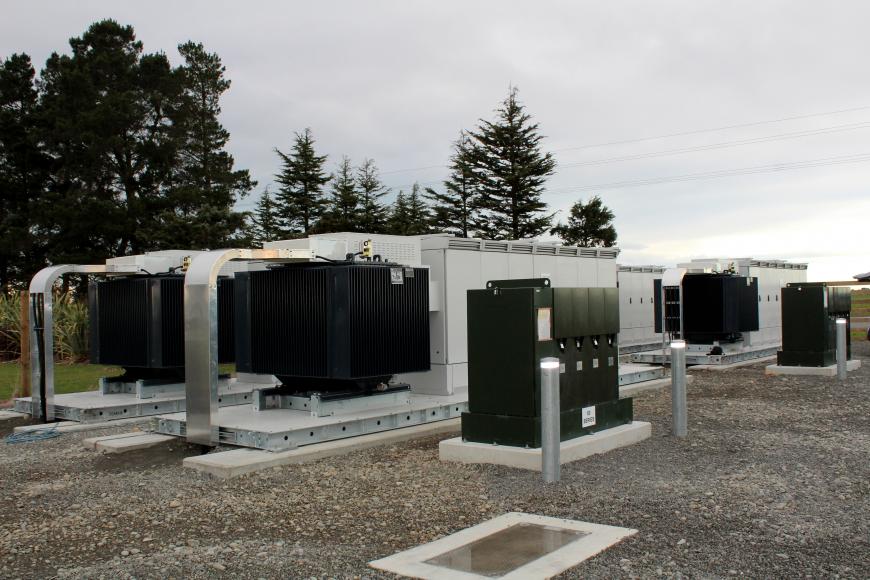 How the Power Electronics STATCOM helped one of NZ's largest EDBs overcome voltage stability challenges
About the client  
Known as one of New Zealand's largest Electricity Distribution Businesses (EDB), our client is responsible for providing power to a diverse region, from its remote rural areas and regional towns to its central city. Responsible for providing electricity to many homes and businesses around the region, our client takes its role as regional EDB seriously. 
With such a significant role across the region, our client continually needs to ensure that its substations can handle the surrounding electrical needs of the communities and businesses it supplies. 
New electrical load requirements made maintaining voltage stability a challenge  
Our client needed to address new substation challenges when a significant customer of theirs adapted how their manufacturing plant produced its product. The customer wanted to remove their reliance on coal to reduce their carbon footprint. This meant switching their coal fire boilers to electric. 
The installation of the electric boiler was to happen in a short time frame, which provided challenges for our client to meet. It was apparent that the new electric boiler would quickly tax the electrical network to a point where maintaining voltage stability was going to be difficult for our EDB client. This became an even greater challenge that our client needed to fix immediately, as surrounding farms that were also reliant on this substation contributed high levels of seasonal load with their irrigation pumping. 
Ideally our client needed to upgrade their local substation to handle the increased electrical loads for their manufacturing and farming customers. With peak production and irrigation season around the corner, they needed a system that could not only be implemented quickly but one that they could rely on to help manage the voltage stability of their network. 
A reliable STATCOM solution from Power Electronics
Having worked with Power Electronics before on a 50kVAr pole mounted STATCOM in a small rural town, they approached us again to see if we could implement a similar solution at a much bigger scale of 10.2 MVAr.
We suggested our Static Synchronous Compensator (STATCOM) as a solution to help maintain and manage their voltage stability challenges as its technology is highly dynamic in the way it can be configured, controlled and managed.
Our client saw the appeal in our STATCOM for many reasons, in particular its modular design, redundant topology, and its ability to withstand the outdoors without taking up precious building space. 
The redundant topology designed into each 2550kVAr STATCOM is provided in the form of six individual power stages. Should there be any problem with a power stage then the problematic power stage can be isolated (typically via remote communications to the STATCOM) and the STATCOM can continue operating at one sixth reduced capacity. Multiply this by four STATCOMs and you have a great deal of redundancy automatically built into your system; a feature that any EDB would appreciate as they seek to provide reliable power to their customers.
Each of the four STATCOMs are controlled via bus communications from the sub-station SCADA system. It is possible to control each STATCOM individually in order to provide the optimum amount of reactive power at any given moment. Again, because of the modular design it is possible to have different reactive power levels set for each STATCOM, even to the degree of running some with a negative setpoint.
To ensure the best possible support to our EDB client, we regularly monitor each of the STATCOMs performance through remote connectivity. This has permitted our engineers to seamlessly optimise tuning and performance without any unnecessary operational interruptions.
Our STATCOM also satisfied a number of environmental issues through the use of biodegradable ester oil in the transformers and air-cooling without the use of hazardous glycol-based coolants often used in water cooled devices. Our iCOOL3 delivers a constant stream of clean air to the power modules, being the most effective way of reaching up to an IP55 degree of protection. 
To compliment this, when the unit is not in active operation, each STATCOM can import a small amount of power to keep the inverter internal ambient temperature above -20°C, without using external resistors. This autonomous heating system is the most efficient and homogeneous way to prevent condensation, increasing the STATCOMs' availability and reducing the maintenance. 
Nothing but positive outcomes 
Our client is about to enter their third high season using the Power Electronics STATCOM system and have had nothing but positive news to share. 
In all, the Power Electronics STATCOM helped this EDB to achieve: 

Increased load in neighbouring industrial plant
+/- VAR support. SCADA controlled.
4 x 2550kVAr modular STATCOM
OPEX cost reduction
Given the urgent nature of this project, our client has been immensely pleased with not only the turnaround period of the implementation but the on-site and available local support too; praising our team for the value they've added throughout the installation planning and ongoing site support. 
Learn more about the Power Electronics Static Synchronous Compensator.